RoboPro Library zur Encodermotor-Positionierung
Features:
Die Positionierung jedes Motors läuft auf einem eigenen unabhängigen Prozess. Die Positionierungen können gleichzeitig zueinander und gleichzeitig zum eigentlichen Hauptprogramm-Prozessen erfolgen.
Einfaches Interface, das der erweiterten Robopro Motorsteuerung entspricht:
"Positionsanforderung" und "Warten auf Positionierung"
Automatischer Spielausgleich bei Richtungsänderungen
Keine Fortpflanzung kleiner Positionsfehler, wenn der Encoder mal einen Encoder-Tic zu weit gefahren ist, da aufeinanderfolgenden Positionierungen stets basierend auf der gemessenen Position erfolgen.
Umlauf-Positionierung von Drehtischen: Die Library wählt automatisch den kürzesten Weg zur Zielposition.
Akkurates Anfahren des Nullpositionsschalters mit separat wählbarer langsamer Geschwindigkeit.
Der Referenzpositionsschalter lässt sich mit einem Offset virtuell verschieben um die mechanische Justage schwer zu erreichender Referenzpositionsschalter zu vereinfachen.
RoboPro library for encoder motor positioning.
Features:
The positioning of each motor runs on its own independent process. The positioning can take place simultaneously to each other and simultaneously to the main program processes.
The interface is simple and corresponds to the extended RoboPro motor control:
"Position request" and "Waiting for positioning"
Automatic backlash compensation when changing direction
No propagation of small position errors if the encoder has moved one encoder tic too far, since successive positioning is always based on the measured position.
Positioning of rotary tables: The library automatically selects the shortest route to the target position.
Accurate approach to the zero position switch with separately selectable slow speed.
The reference position switch can be virtually moved with an offset to simplify the mechanical adjustment of reference position switches that are difficult to reach.
Testaufbau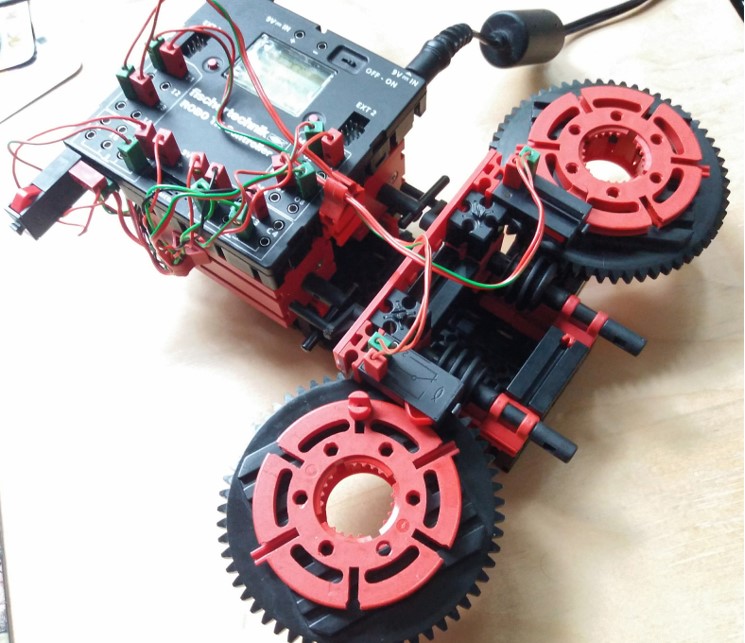 EncdrMotPosV2.rpp (970 kB)
Erstellt von Helmut (hamlet).
Hochgeladen von website-team am 14.6.2020.
Hinweis: Das Herunterladen, Öffnen und Ausführen von Dateien geschieht auf eigene Gefahr. Wir können keine Verantwortung für eventuelle Fehler oder gar Schäden übernehmen, die beim Ausführen von Programmen oder Bauanleitungen entstehen könnten. Falls Du einen Fehler findest, kontaktiere bitte uns.